Artistic and Colorful Swedish Designer Products!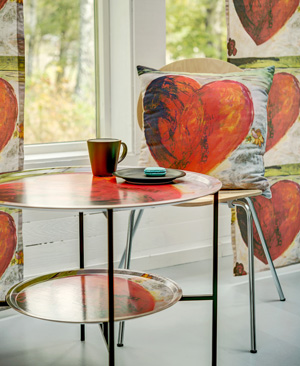 Tables, pillows and curtins from Flodin Design.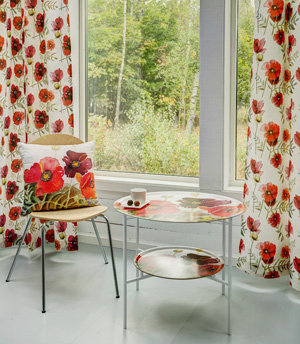 T-shirt, Sölvesborgsbron.

Kuddar
Röd Vallmo 365,
halvlinne fram och hellinne bak.
40 x 40 cm 450:- • 50x50cm 495:-


Tyg röd Vallmo 365, metervara
55% linne, 45 % bomull Bredd 150 cm.
Se gardiner bild ovan t.v.


Doptavla målas på beställning.


Intresserad? Kontakta mig!
About Flodin Design
A Scandinavian design company who designs and manufactures high quality interior design and decoration articles.
The philosophy behind the articles we design and make are:
Add joyful colors to your everyday life.
What you give, you will get in return. - Why not give love?
Ecological thinking runs in our genes.
Flodin Design creates original and colorful products that bring people joy for a long time and cause minimal environmental impact. Everything is designed and made in Sweden!
The company was founded in Stockholm, Sweden in 2000, but moved to its current location, Bromölla in the south of Sweden, in early 2006.
Events
Sofia de la Fuente har gjort en Youtube kanal där hon lägger ut intervjuer med olika konstnärer runt Sölvesborg. Konstutställningen i Silosen, Sölvesborg blev inställd så därför har hon tagit detta initiativ.
Se intervju med Carina Flodin här:
https://www.youtube.com/watch?v=_bCqU2HRosc

Utomhusmarknad Bryggans Café & Art,
Mjällbyåsavägen 59, Sölvesborg (nära Hörvik)
13-14 juni Instagram brygghusetcafeoart


Trädgårdsdagen
Sölvesborg 15 augusti
Läs mer >>
Korsholms Kulturhus, Finland
v. 39 - 40 2020
---
Like on facebook and Instagram
for the latest news!
Spara
Spara